Quick Facts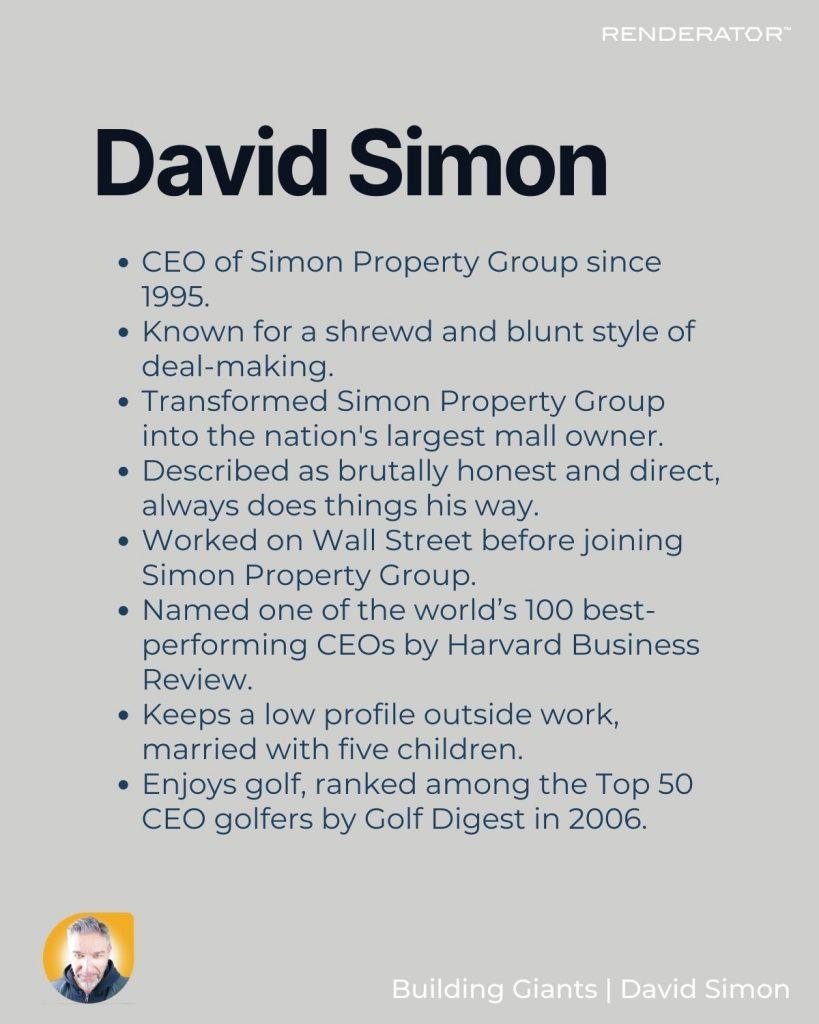 ---
Visionary Leadership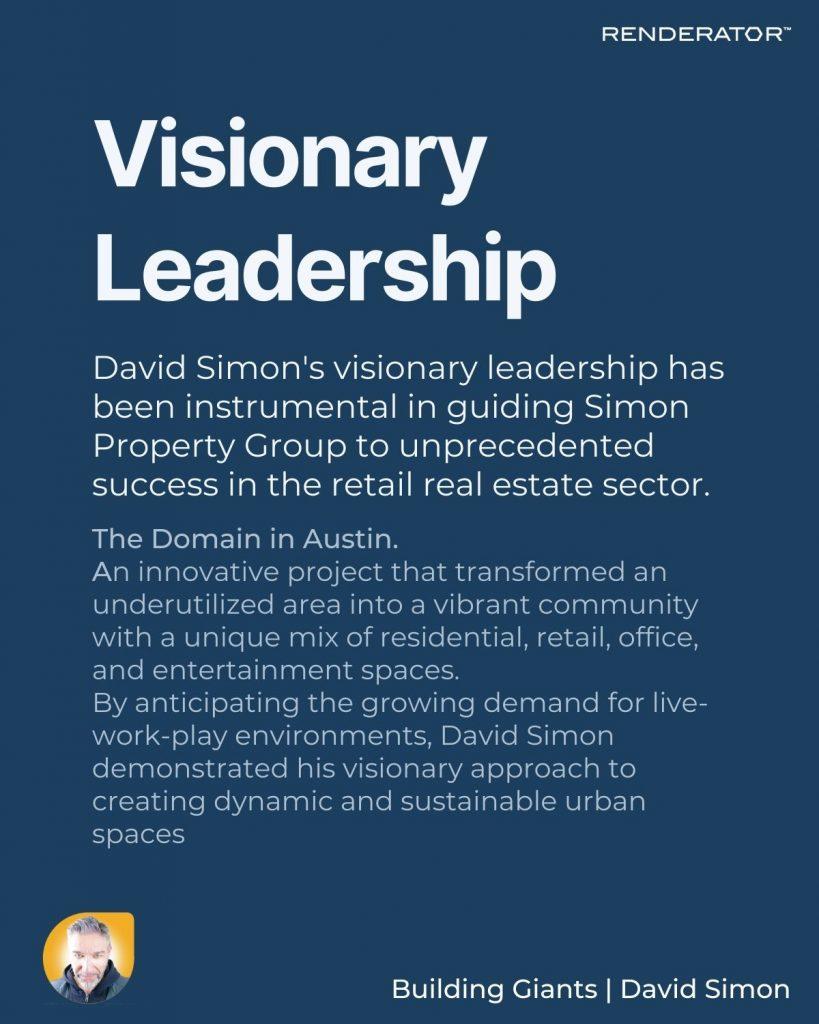 David Simon's visionary leadership has been instrumental in guiding Simon Property Group to unprecedented success in the retail real estate sector.
The Domain in Austin.
An innovative project that transformed an underutilized area into a vibrant community with a unique mix of residential, retail, office, and entertainment spaces.
By anticipating the growing demand for live-work-play environments, David Simon demonstrated his visionary approach to creating dynamic and sustainable urban spaces
Expansion & Global Reach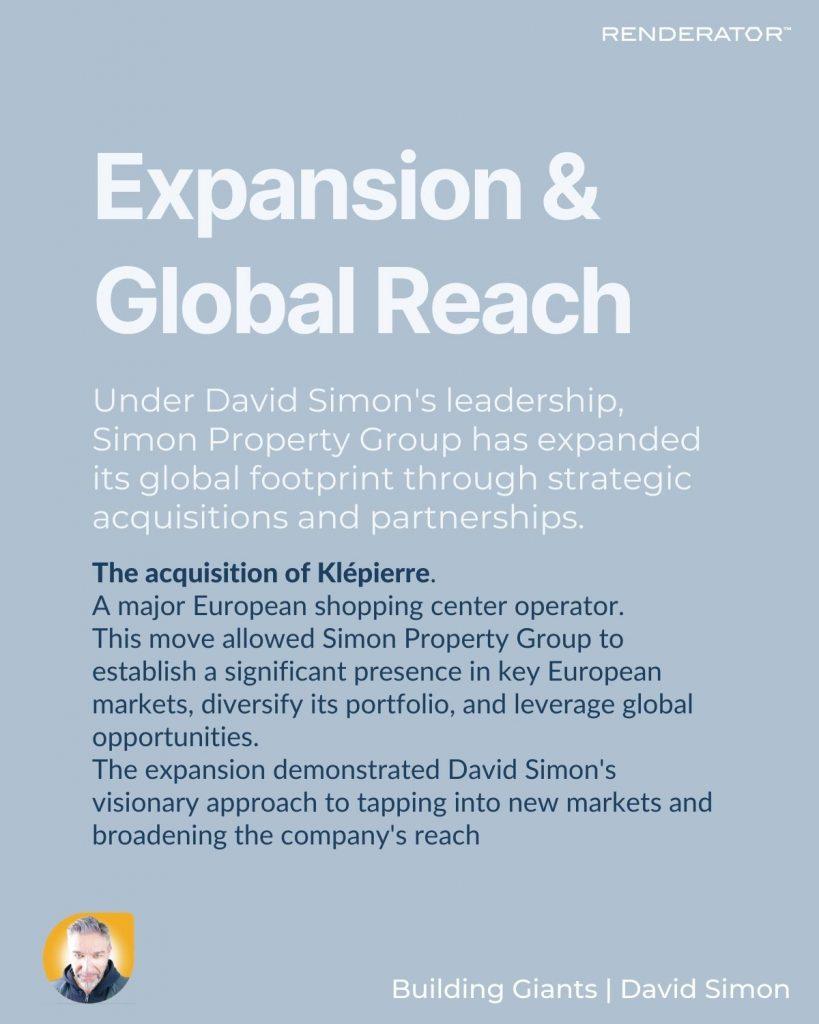 Under David Simon's leadership, Simon Property Group has expanded its global footprint through strategic acquisitions and partnerships.
The acquisition of Klépierre.
A major European shopping center operator.
This move allowed Simon Property Group to establish a significant presence in key European markets, diversify its portfolio, and leverage global opportunities.
The expansion demonstrated David Simon's visionary approach to tapping into new markets and broadening the company's reach.
Transforming Retail Experience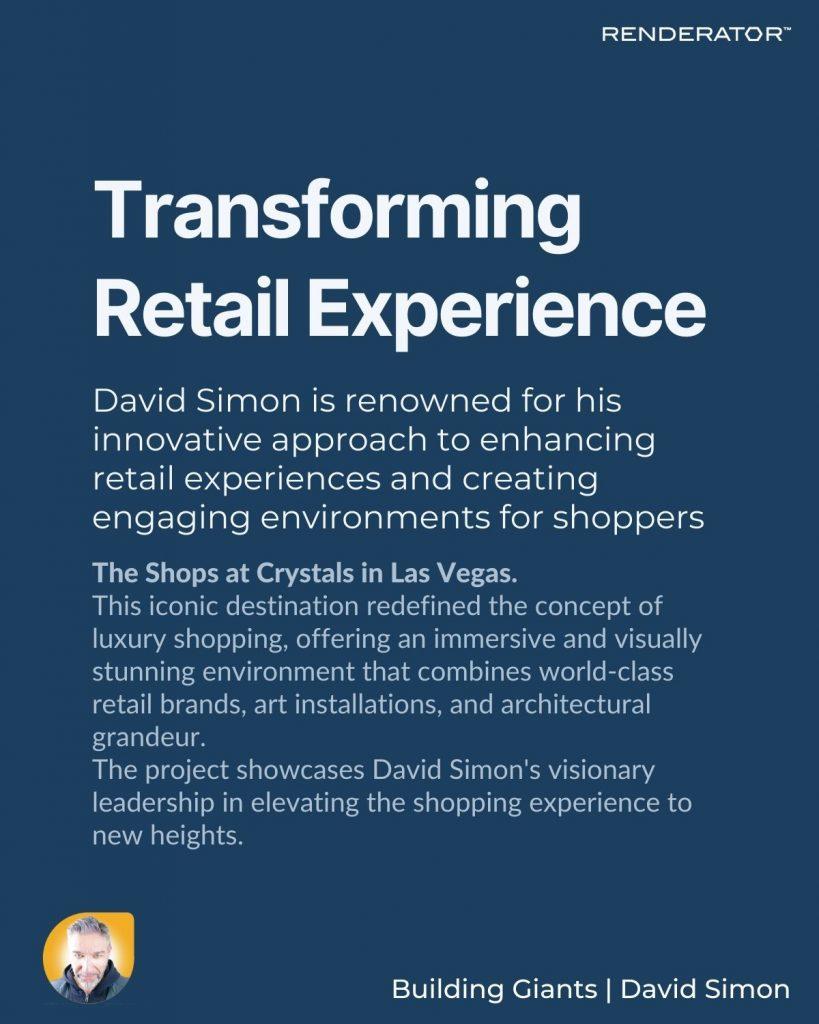 David Simon is renowned for his innovative approach to enhancing retail experiences and creating engaging environments for shoppers
The Shops at Crystals in Las Vegas.
This iconic destination redefined the concept of luxury shopping, offering an immersive and visually stunning environment that combines world-class retail brands, art installations, and architectural grandeur.
The project showcases David Simon's visionary leadership in elevating the shopping experience to new heights.
E-commerce Integration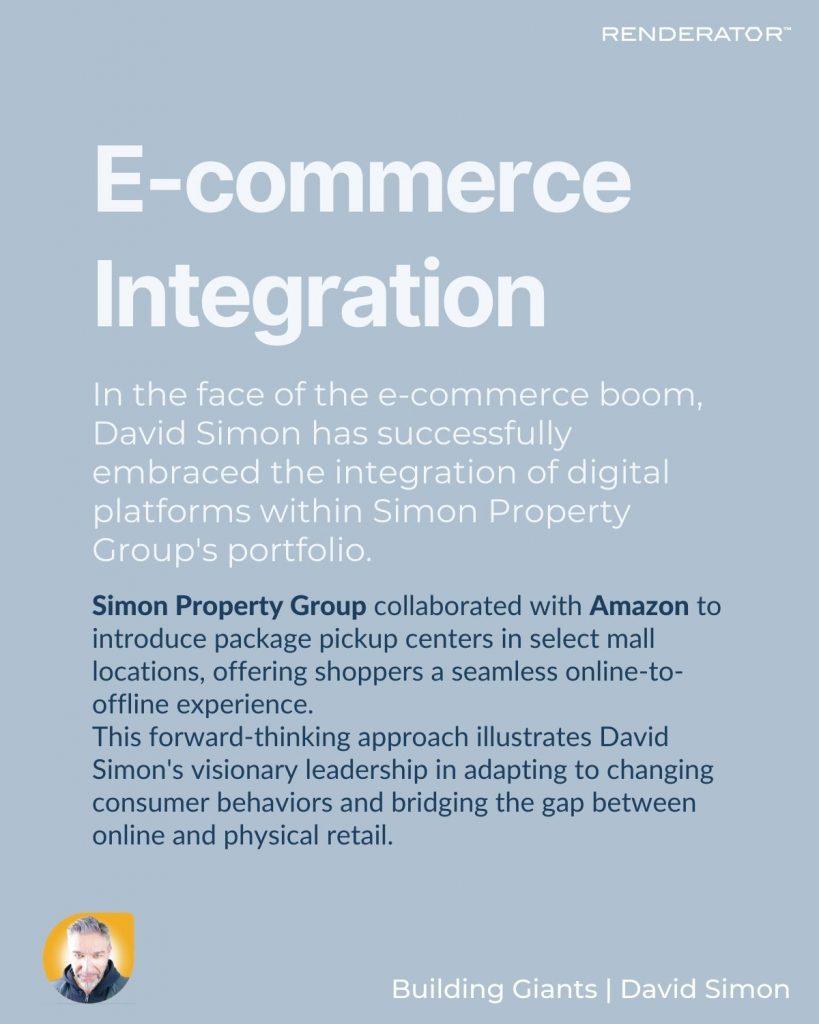 In the face of the e-commerce boom, David Simon has successfully embraced the integration of digital platforms within Simon Property Group's portfolio.
Simon Property Group collaborated with Amazon to introduce package pickup centers in select mall locations, offering shoppers a seamless online-to-offline experience.
This forward-thinking approach illustrates David Simon's visionary leadership in adapting to changing consumer behaviors and bridging the gap between online and physical retail.
Sustainable Development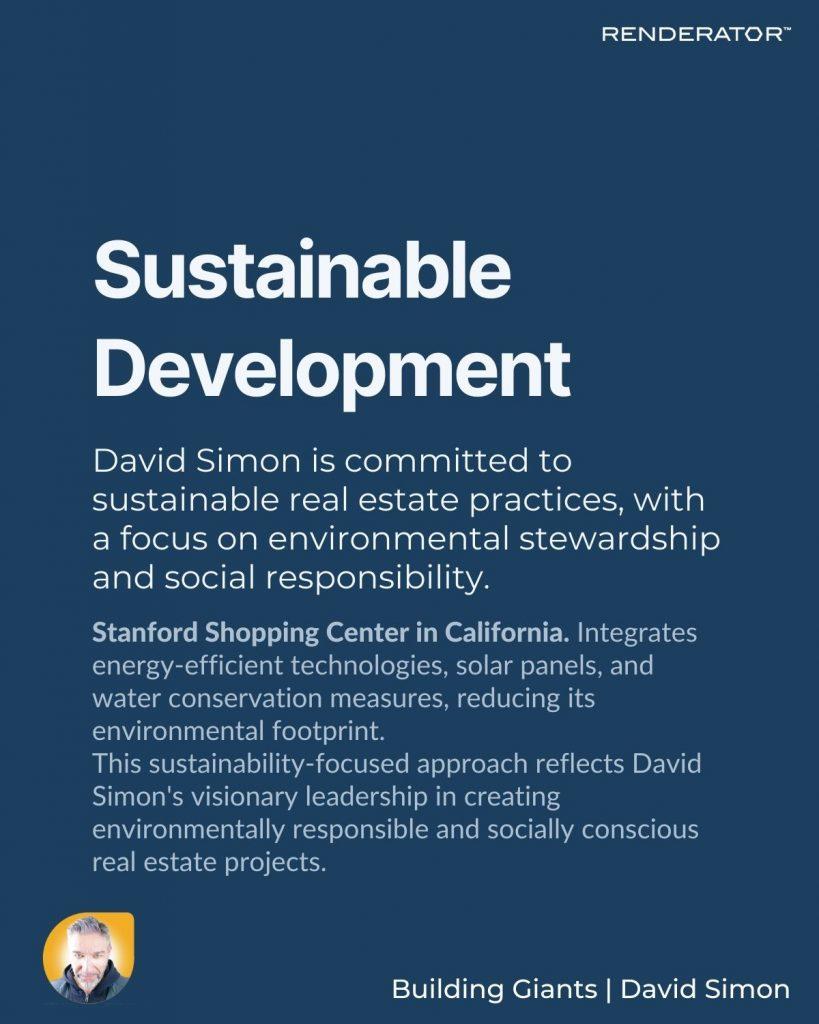 David Simon is committed to sustainable real estate practices, with a focus on environmental stewardship and social responsibility.
Stanford Shopping Center in California. Integrates energy-efficient technologies, solar panels, and water conservation measures, reducing its environmental footprint.
This sustainability-focused approach reflects David Simon's visionary leadership in creating environmentally responsible and socially conscious real estate projects.
Community & Philanthropy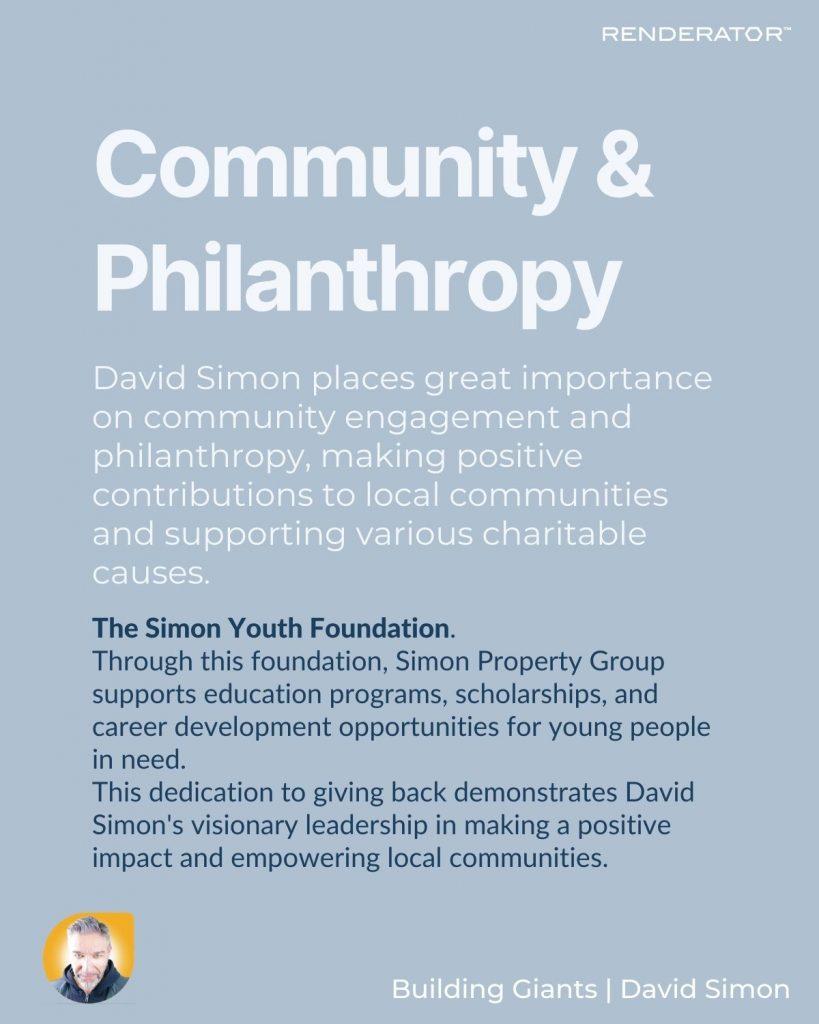 David Simon places great importance on community engagement and philanthropy, making positive contributions to local communities and supporting various charitable causes.
The Simon Youth Foundation.
Through this foundation, Simon Property Group supports education programs, scholarships, and career development opportunities for young people in need.
This dedication to giving back demonstrates David Simon's visionary leadership in making a positive impact and empowering local communities.
Weathering Economic Challenges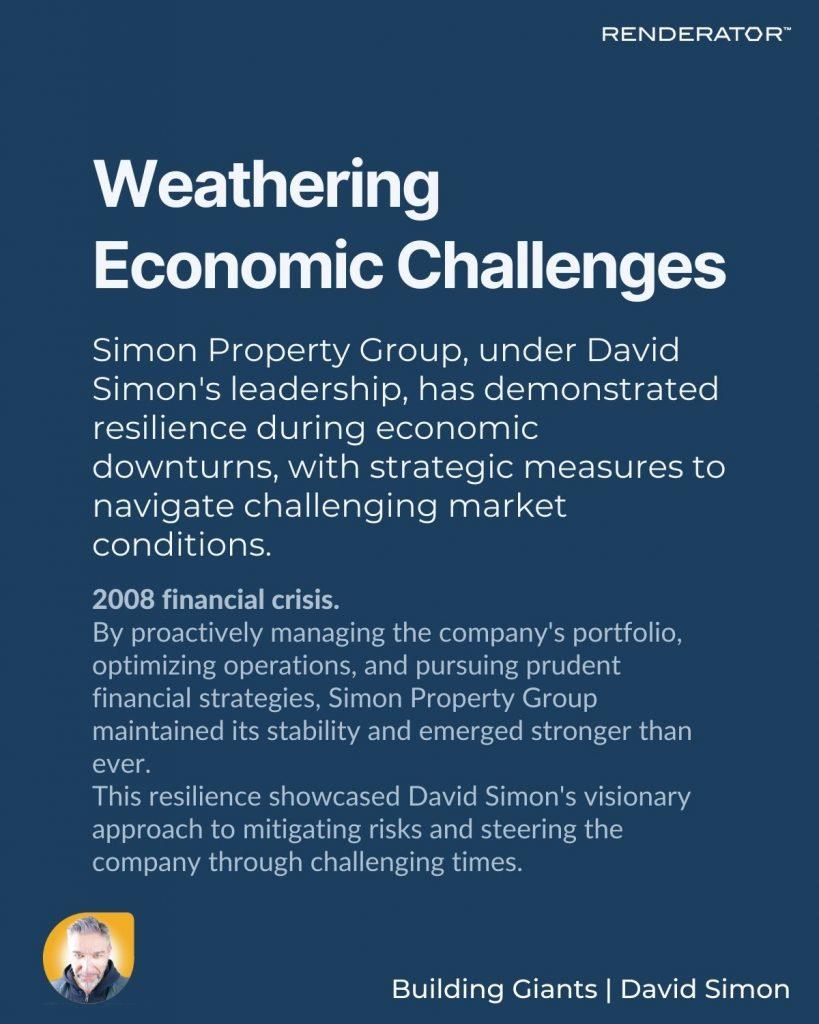 Simon Property Group, under David Simon's leadership, has demonstrated resilience during economic downturns, with strategic measures to navigate challenging market conditions.
2008 financial crisis.
By proactively managing the company's portfolio, optimizing operations, and pursuing prudent financial strategies, Simon Property Group maintained its stability and emerged stronger than ever.
This resilience showcased David Simon's visionary approach to mitigating risks and steering the company through challenging times.
Innovation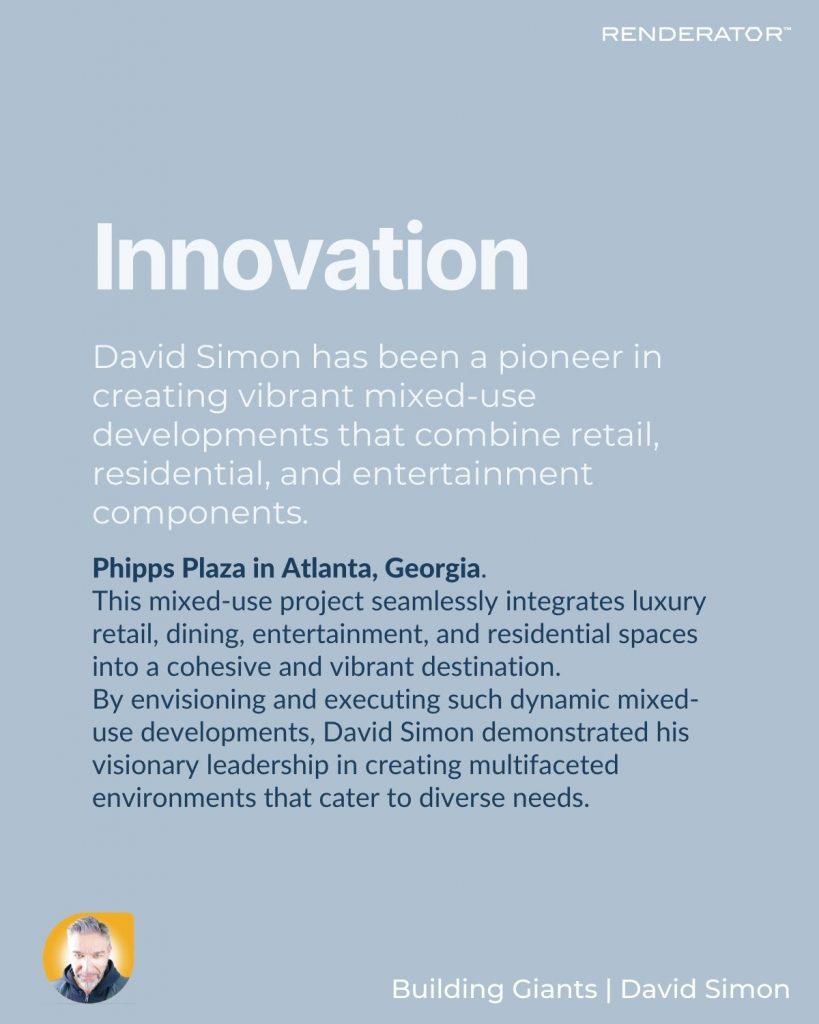 David Simon has been a pioneer in creating vibrant mixed-use developments that combine retail, residential, and entertainment components.
Phipps Plaza in Atlanta, Georgia.
This mixed-use project seamlessly integrates luxury retail, dining, entertainment, and residential spaces into a cohesive and vibrant destination.
By envisioning and executing such dynamic mixed-use developments, David Simon demonstrated his visionary leadership in creating multifaceted environments that cater to diverse needs.
Partnerships & Collaborations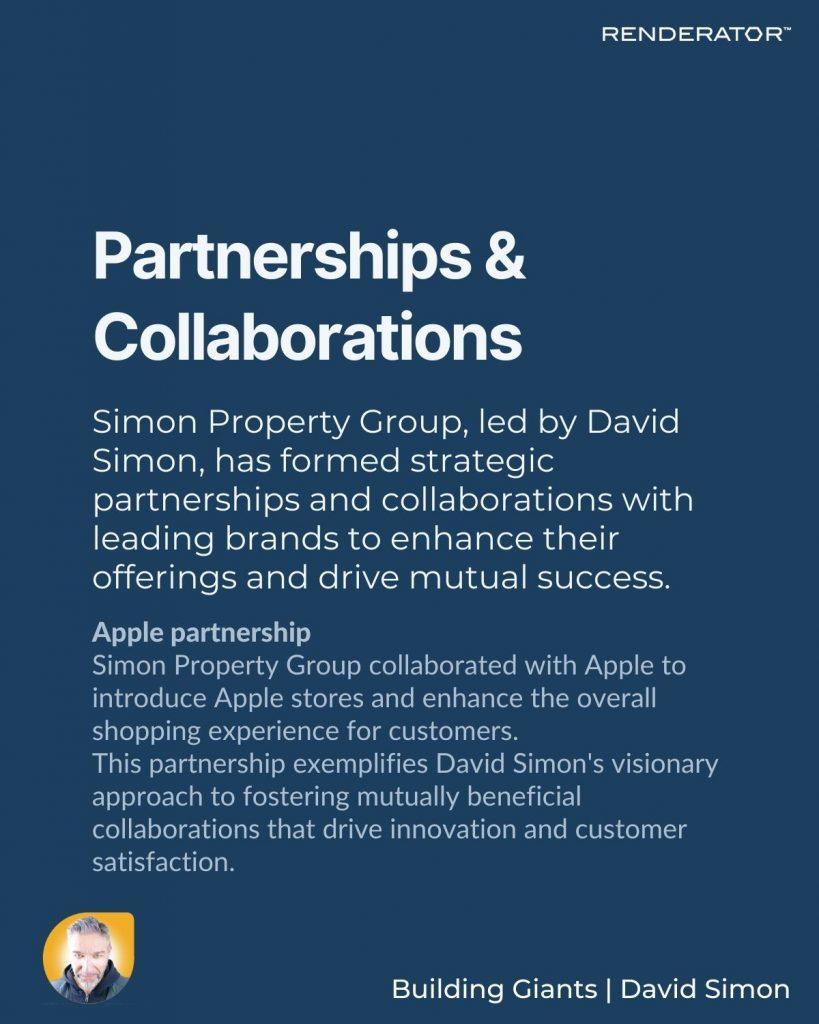 Simon Property Group, led by David Simon, has formed strategic partnerships and collaborations with leading brands to enhance their offerings and drive mutual success.
Apple partnership
Simon Property Group collaborated with Apple to introduce Apple stores and enhance the overall shopping experience for customers.
This partnership exemplifies David Simon's visionary approach to fostering mutually beneficial collaborations that drive innovation and customer satisfaction.
Recognition and Awards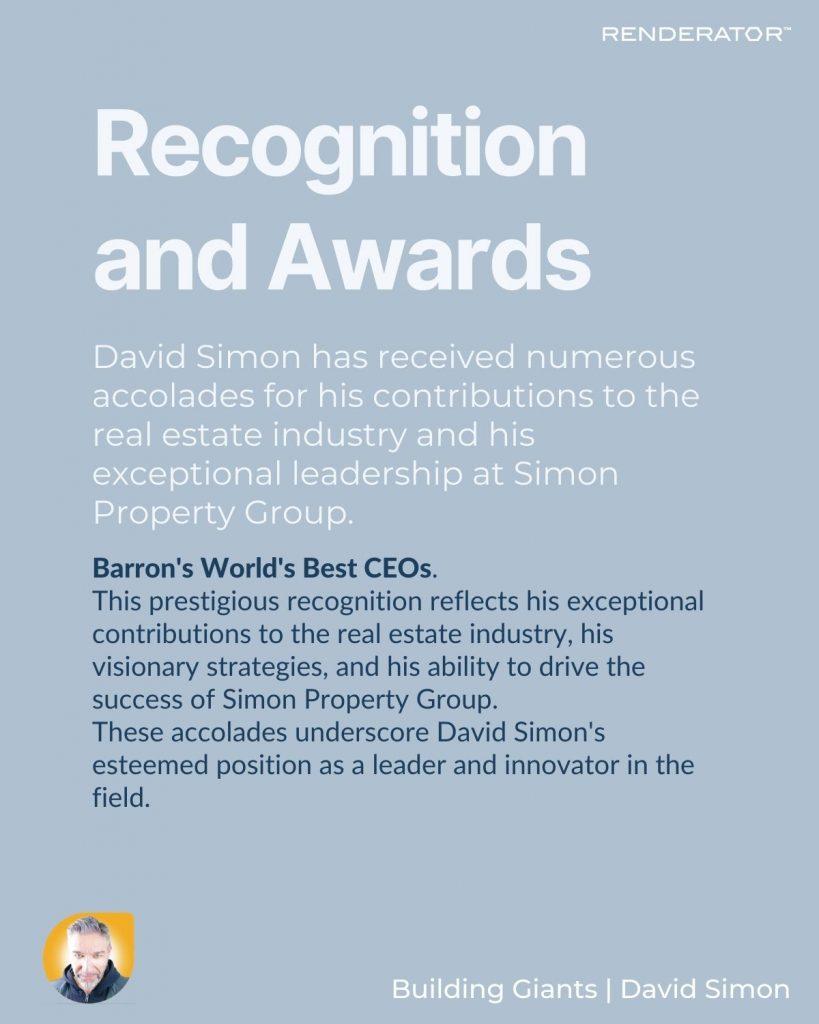 David Simon has received numerous accolades for his contributions to the real estate industry and his exceptional leadership at Simon Property Group.
Barron's World's Best CEOs.
This prestigious recognition reflects his exceptional contributions to the real estate industry, his visionary strategies, and his ability to drive the success of Simon Property Group.
These accolades underscore David Simon's esteemed position as a leader and innovator in the field.